Many businesses create a Google Business listing to gain more visibility in Google. What most don't realize is that creating a Business Profile does not give you management over it, and you need that if you want an effective SEO and lead generation tool.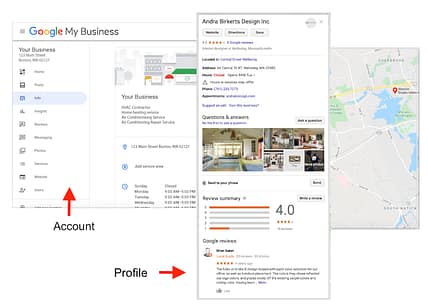 Lets start by creating a free Business Profile and a Google My Business account for that profile. This account is the only way you can claim ownership of your Business Profile, attain management rights to it, and unlock additional free features to increase your visibility on Google. 
What is Google My Business?
This is a tool that lets you manage and optimize your Business Profile on Google. First we need to go over what a Business Profile is. Your Business Profile is Google's term for your Google Business listing. You can see Business Profiles in Google Maps and in the locals results from a Google Search.
Business Profiles on Google Search look like this: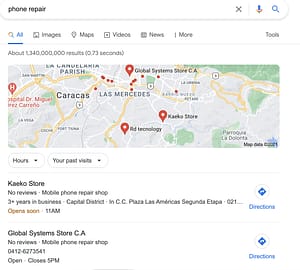 Business Profiles on Google Maps look like this: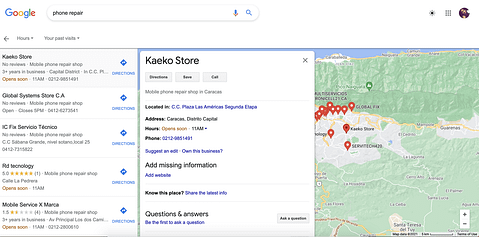 And Business Profiles on mobile look like this: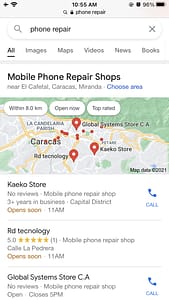 Creating one is the same as adding a place to Google Maps, which anyone can do. All you need is a business name, location and category. Once it is confirmed that it's not a duplicate, they will create the Business Profile for that location. Then it is open to consumers to leave reviews, photos, ask questions and even answer other customers' questions. These might also be added by Google from things it pulls from across the web and other sites.
This means that a Business Profile doesn't need GMB but you won't have the ability to manage the information it displays or the reviews. Which is why we recommend creating an account on GMB. With it you can access, customize, manage and enhance your Business Profile on Google, for free.
How to use Google My Business for local marketing
As we've said before, Google My Business is a tool that enhances your Business Profile to boost its visibility and effectiveness. There are 4 main functions that you can use to make your profile in Google better for local marketing!
Engage with consumers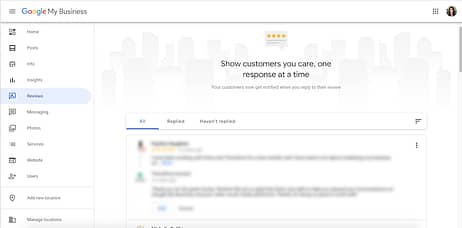 With Google My Business you can engage and interact with consumers, by responding to reviews, answering questions and enabling direct messaging. You can also use it to publish posts to your Business Profile, as you would do with other social media platforms. 
Highlight your business
There is a limit to the information about your business that you can add to your Business Profile. But through your GMB account dashboard, you can provide more. Such as hours, a link to your website, products and pricing, and any other information that makes your business unique. We recommend completing your Business Profile as it will help with SERP.
Gain Insights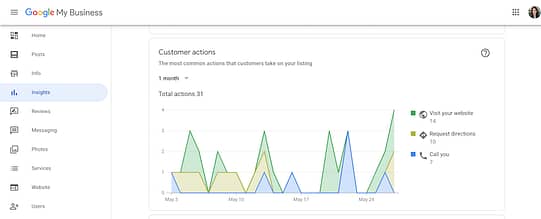 Using the dashboard in GMB can give you key insights on your audience and local search performance. You can find this information in the analytics tab of the platform, you can see the queries from customers are using to find your business. Be it Google Maps or Google Search. You can also get a breakdown of actions taken on your listing, as well as how your photos are performing. 
Perform Local SEO with Google My Business
There is an algorithm for everything, including ranking Business Profiles. Once more, through your dashboard, you can incorporate keywords into your Business Profile and other optimizations to help rank in local results.
How to Use Google My Business for SEO
Now that we've covered what GMB is, and a few ways you can use it. It is time to go over how to use it for SEO. It is important to know that Google makes Business Profiles dynamic, meaning that depending on the platform or the term used in the search the profile will look different. Google will highlight the keywords they were looking for on your profile and others that might be relevant.
This is why it is important to fill your Business Profile so there is information that can be prioritized. Just as other platforms use content management systems to optimize websites for search engines, GMB is used to optimize your profile and expand your reach. 
Optimizing for Google is essentially optimizing for searchers, it all comes down to the same three things: targeting, quality of information and trust.
Target your information
Use and incorporate relevant keywords into your Business Profile so Google knows what you're trying to rank for. Add them to your "from the business" description, your responses to reviews and answers to questions, as well as the posts you publish. Make sure that they look natural.
Maintain quality of information
As we've said before, having a complete profile will impact it's rank. Here is when the dashboard becomes more important as that's where you'll add all the information.
Build trust
Keep your information updated and as accurate as possible while your business evolves. This step appeals to the trust component of Google's algorithm. Having a regular stream of reviews as well as your responses to them will also signal that you are active.
Everyone can use Google My Business as it is a free tool that turns your Business Profile into a marketer for your Business. To get a GMB account, go to google.com/business and click "Manage now," which will take you through the steps of creating an account. Remember that this won't automatically create the Business Profile, it just gives you the ability to access, add and edit. 
We hope this article gives you a better understanding of Google My Business. Let us know what you think and if you have any questions. We'll be happy to answer!
Follow our Journey to LEARN more on our Socials Below